Visiting Natalia Kaut
I visited Natalia Kaut during the London Fashion Week in February. This was the first press day I took part in. I had received invitations to quite a few foreign press days, but never had the time to go to any of them before. This year – for the first time – it was less important for me to go to many fashion shows than to get to know the designers – like Natalia – better. Here are few important pieces of information worth knowing. Natalia is a Russian designer who currently lives and works in London. Her father is a fisherman, her mother a cook. When she was a little girl, she tried to make a dress out of the expensive material found in her grandmother's wardrobe. As an adult, she graduated from the University of Classic Music and Arts where she learned to play the piano. As a talented musician, Natalia got a music-teaching job but never gave up on her dream that one day she would be a successful fashion designer. She collaborated with the students of the two most famous London art universities, Central Saint Martins College of Art and Design and the London College of Fashion. During this time she only made clothing for herself. Many of her friends and even strangers complimented her on her outfits and inquired about the brand she was wearing. This was when Natalia decided that her creative hobby would become her full-time job. At first she only made exclusive clothes for her friends, then her client circle widened.
She founded her own brand in 2011. She works in her own studio in London, in the heart of Mayfair. The 2011 London Fashion Week brought the first real breakthrough and great success. She won a prize for her innovative creativity from the Victoria and Albert Museum. She also took part in the Moscow Fashion Week, where she was welcomed as a Russian designer. Every single piece she designs is made by hand in London. She most frequently uses merino wool, leather, patent leather and organza. Celebrities like Rita Ora, Geri Halliwell, Kimberly Watt and Sarah Harding appreciate and wear her work. Her private clients are women with a strong sense of identity and who aren't afraid of a new design. Besides designing clothing and travelling, Natalia also donates to charity: she supports poor Russian children through the fund established by Natalia Vodianova.
After this official introduction, let me share my personal experience.
After the Burberry show, we set off for Farm Street, which is about ten minutes away from Regent Street. I remember that although I had a leather jacket on, I felt quite cold. When we stepped into the showroom, I instantly left my shivering behind. A wonderful sight greeted us. The sumptuous interior had every little detail in its perfect place, and I felt as if I had stepped into a treasured display case in a guest room. I was already familiar with a few colourful summer dresses I had first seen on Natalia's Instagram and Facebook page. Of course, Natalia and her assistants were there and ready to help us. At first they allowed us to look at everything, then came to our side and offered their aid.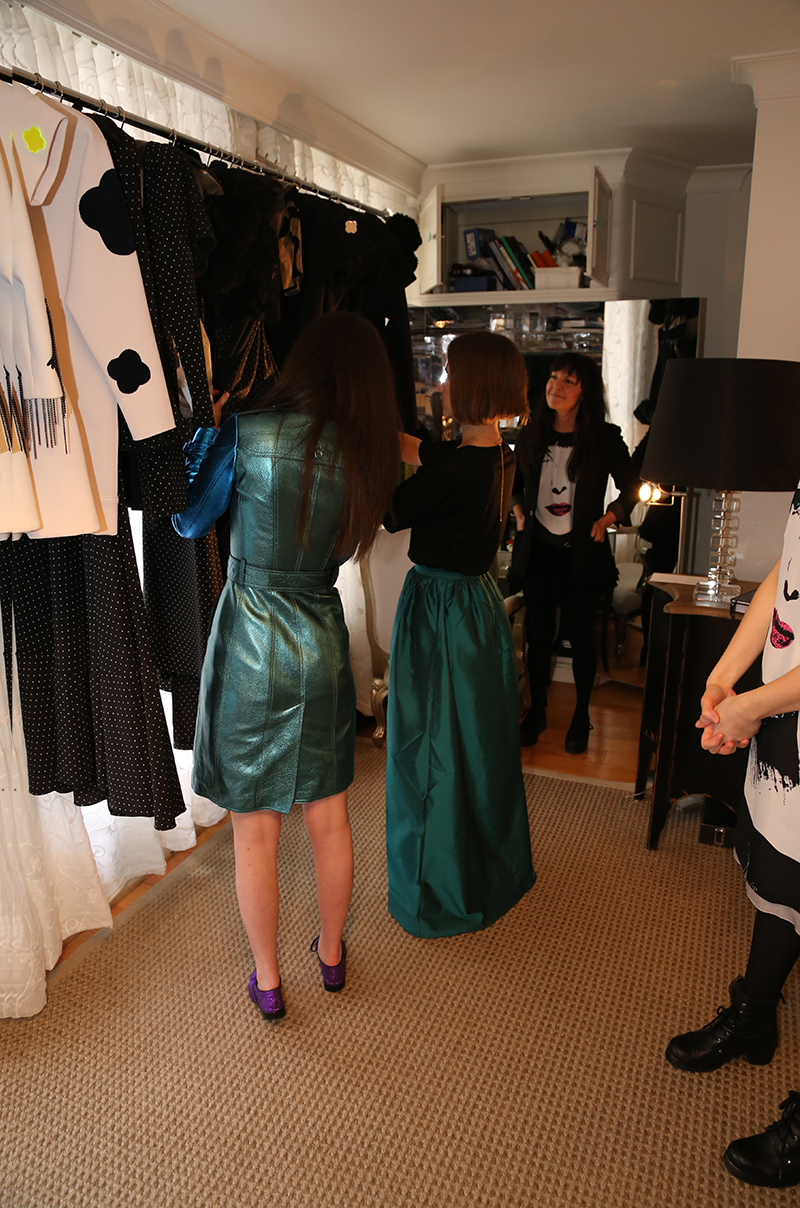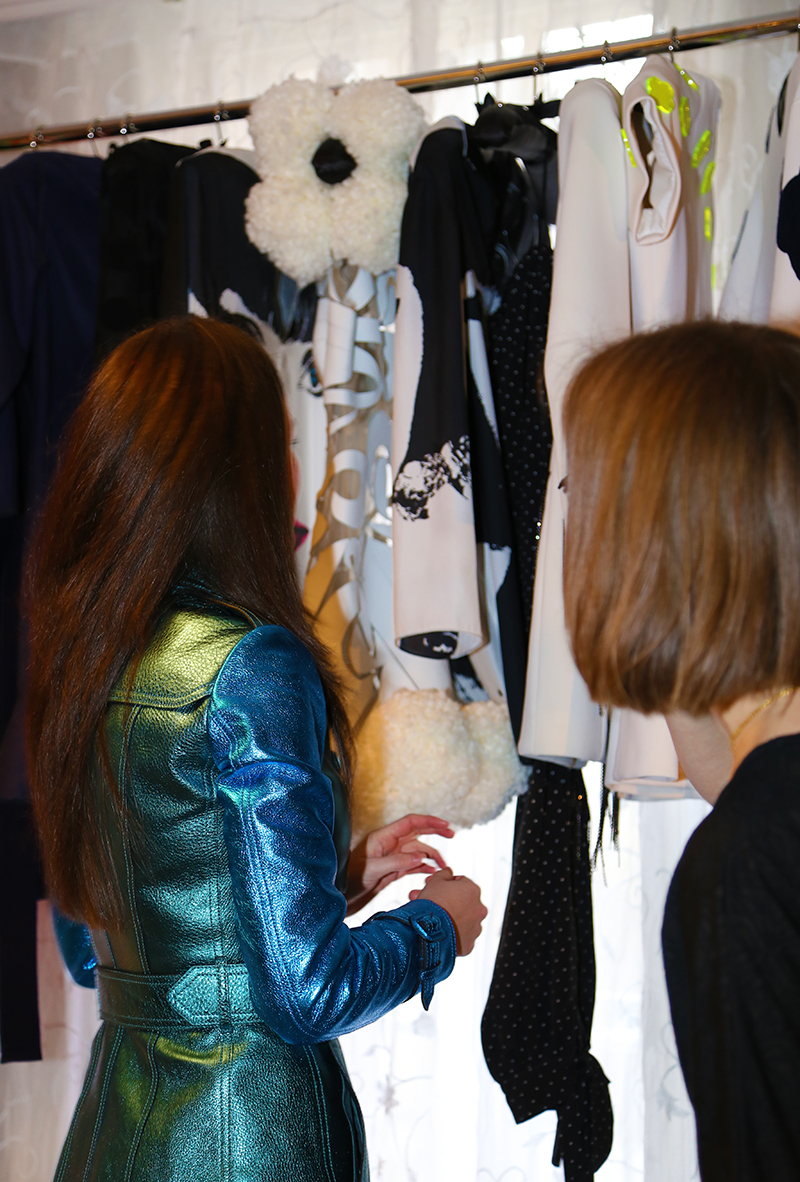 It felt nice when Natalia recognized me and told me she follows me on Instagram, as I follow her, too.
Every piece in the new collection is unique, special and profuse. I especially liked two pieces: a colourful summer dress and a white one with pompons.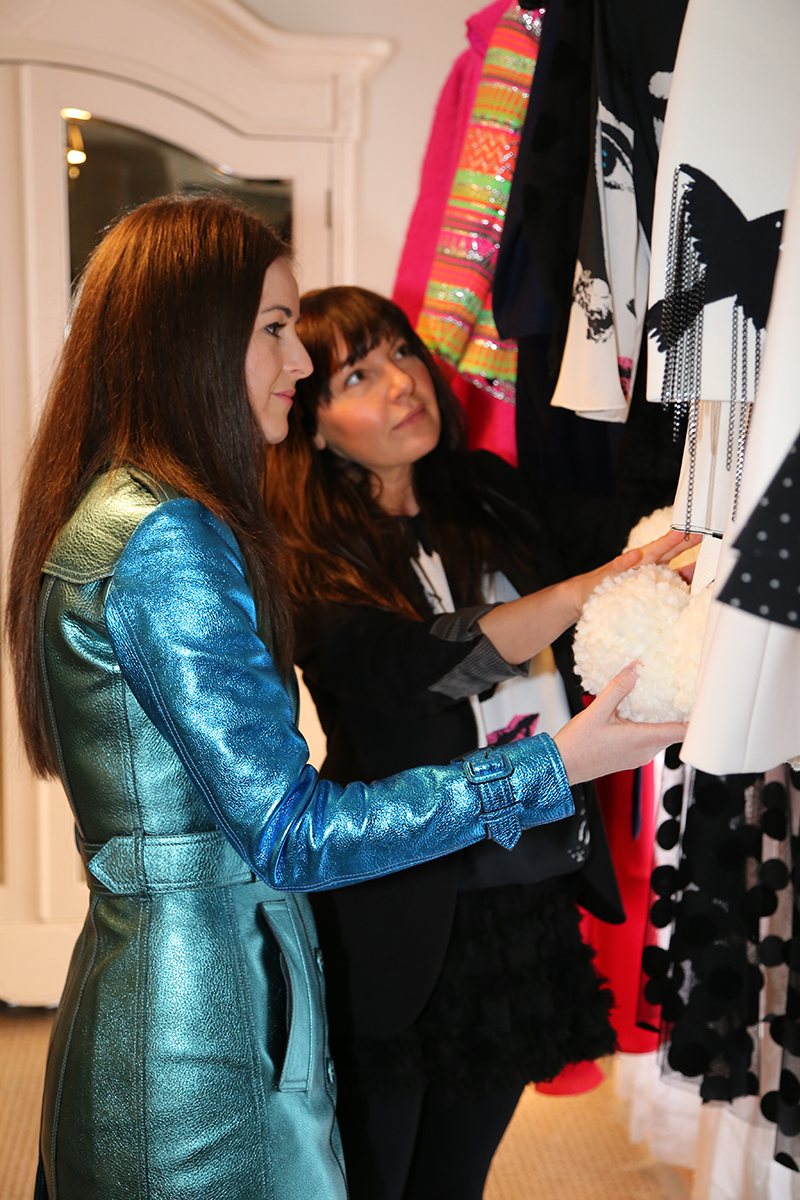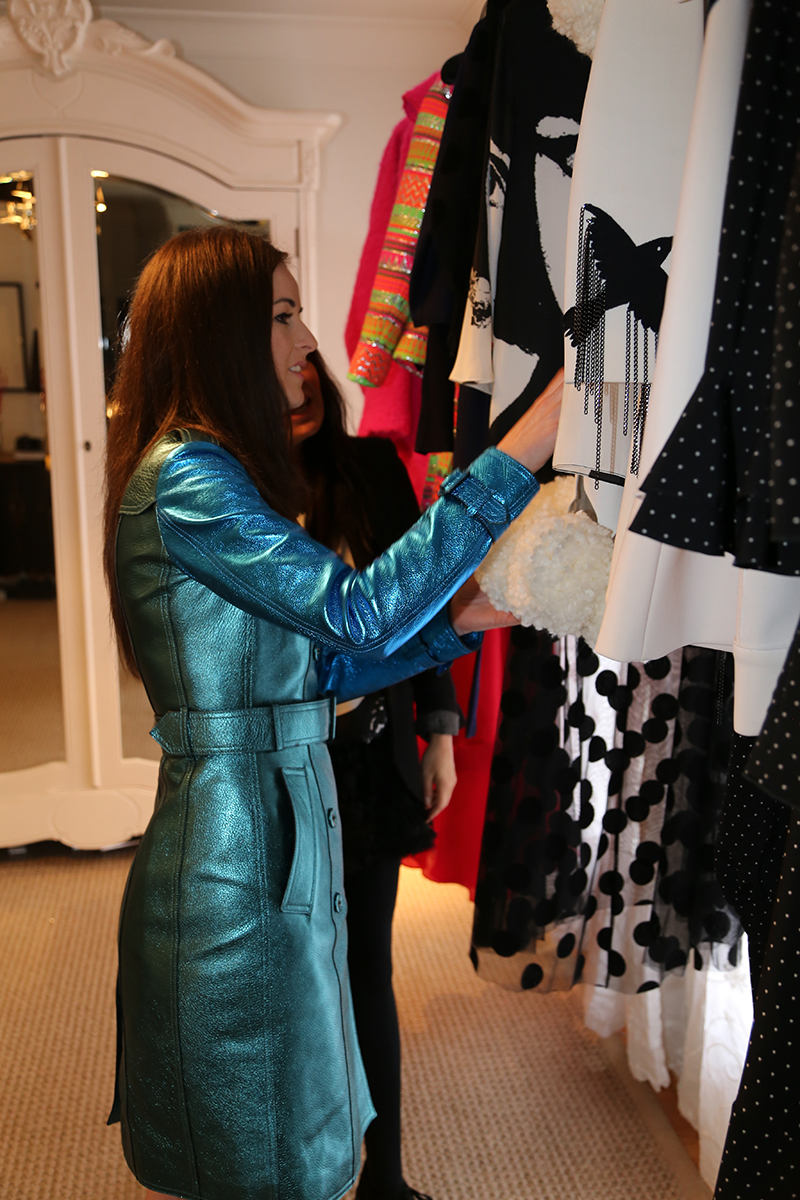 I promptly tried both of them on. Natalia told me that there was a black dress very similar to the laser-cut white leather one. I wasn't about to be asked twice, I tried that one on, too. When I came out of the fitting room, everyone was breathless!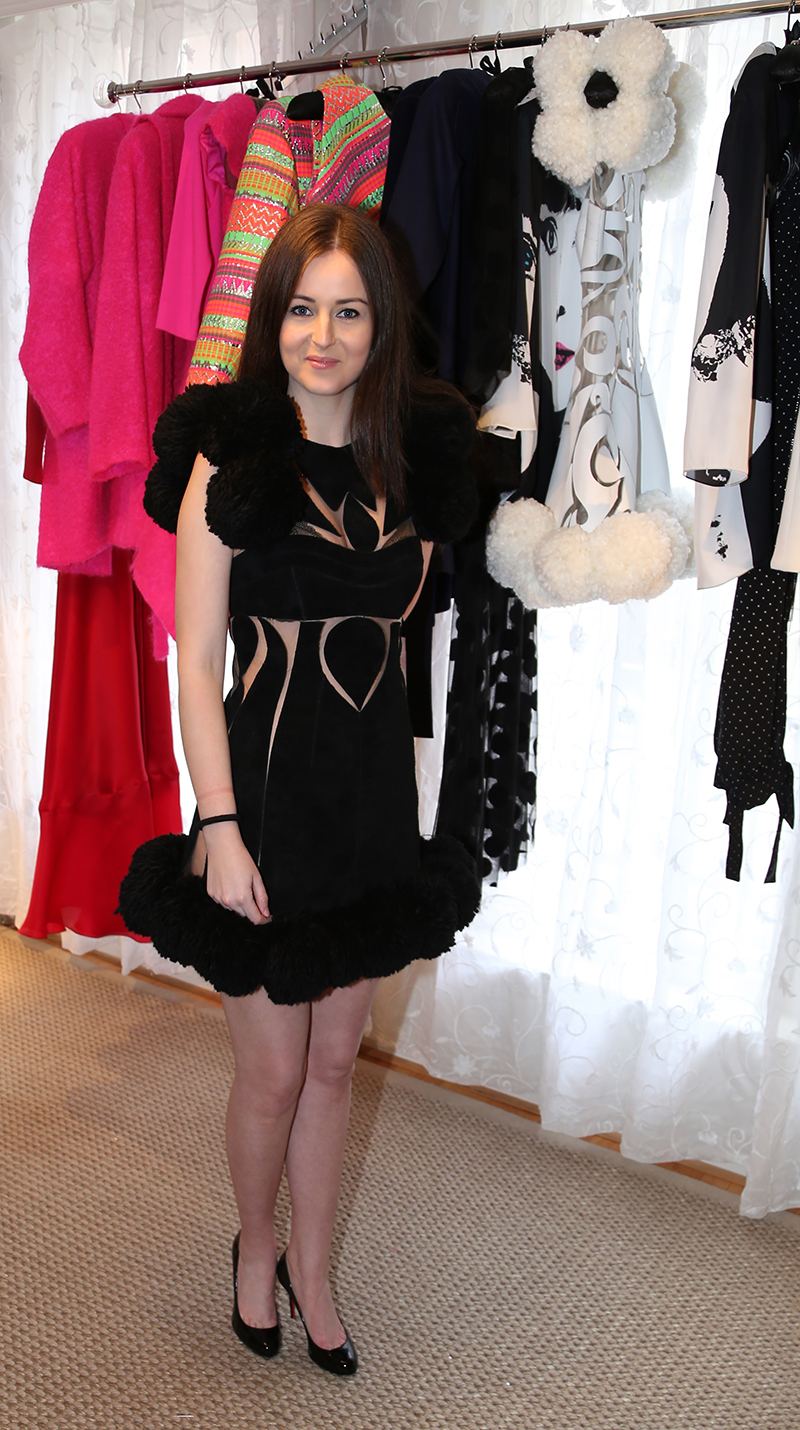 The dress looked like it had been made for me. I felt like a real modern Russian tsarina. My boyfriend, Zoli told me afterwards that while I was trying the clothes on, Natalia's assistants were talking with each other in Russian and said that I was pretty. What can I say, it felt very good to get such a nice compliment from strange women after just ten minutes.
During the time I was trying the clothes on, we were offered champagne, tasty macaroons and chocolates we could not say no to. After a glass of champagne, Zoli bravely started to tell a Russian story. You should have seen their faces; they were absolutely shocked by the Hungarian blogger and her boyfriend who speaks Russian, and well. I could see that they were pleased that we spoke to them in their own language. (After this, I also started using the little Russian I had learned from Zoli.) One of the assistants laughed and said: "See, Natalia, the guests only need to drink champagne to start speaking Russian."
Then Natalia took me to the sewing workshop so the tailor could take my measurements. Before saying goodbye, we talked the details over with Natalia for the last time, and then left with a satisfied smile.
If you would like to see more clothes, you may like and follow Natalia's Facebook page here.